In their second tournament ever, the Rusty Bikes took to the Belgian grass to test their skills at G-Spot. Here's the historical report written by our own Thijs: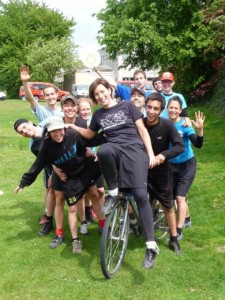 Mixed team Rusty Bikes went to Gent last weekend. The second tourney of this new formed team was: Gspot! Present were: Marleen, Marieke, Sara, Nan, Patricia, Carly, Onno, David, Michal, Mark & Marc.
The weather was great, the nights were freezing and offcourse like any Belgian tourney, there was enough Belgian beer for everyone. Some of us already had quite some on the first night. We would only hear next day, but Michal injured himself on Friday night. Apparantly he was playing indoor frisbee in the party tent and managed to break his leg. Only after the first game the next day, we were informed that he was in the hospital (and not in his tent with an hangover what we thought). He had surgery on Saturday morning and unfortunately had to have a second surgery on Sunday. Bad way start to a tournament.
Saturday morning our first game was against the strong home team Gentle 1. Breakfast was served late, warming up was minimal and we were just not that awake. That said we did fairly well against this finalist-to-be. We lost 6-13, but we also lost Patricia with a knee injury. The second game was also lost by 6-13. Our third game was much more exciting and only lost in the final seconds 4-5. Last game of the day was against Gentle 2. Having both lost all our games, this was thé match we wanted to win. It was however the fourth game and tireness kicked in. But we played good, were right there on D, decent on offence and took the game 13-5.
Saturdaynight there was a great party with 80s aerobic and trailer trash dancing together on the beats of the organizers own band.
Due to the Swiss draw system, our one big win was enough to let us play for place 9-11 (out of 14). We had to beat two other teams to became 9th, however these were two very decent Belgian teams: Slijpschijven en Xcelar8ors. They proofed to be better than us on this last day and we lost those last games. But the free Belgian fries made up for that!
In an easy final, the favourite Frizzly Bears took down Gentle 1. I managed to score -4 in one point on Fantasy Ultimate, when I put on my Joker and my guy dropped the pull… an hilarious ending of a fun tournament!