Our resident geniuses at Rusty Bikes Labs are always thinking up new and exciting methods to express our Bikey-ness. This month we have had several breakthru's that we would like to share with you.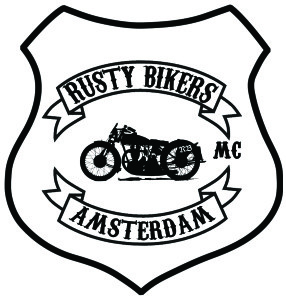 The first invention comes to us via mad scientist Hilco, who took on the task of coming up with a logo for the Rusty Bikers Motorcycle Club, our team's alter ego for the G-Spot 2014, Route 66 theme party. The result is something that would make the producers of Son's of Anarchy or the Hell's Angels, PROUD.
Our second invention comes from nobel prize never nominated researcher Lisa who has been exploring the possibilities for a RB pin.  Pins are of course a beloved accessory of all fun and hip clubs, movements, and tacky slogan. But could they be used in the context of we the Rusty Bikes? Thanks to a mix of raw talent, elbow grease, and SCIENCE, we now have our answer: Rusty Bikes the pin!