Historical Report by our own Thijs: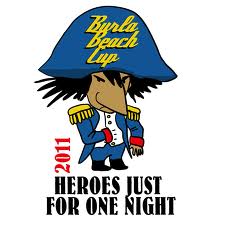 weekend the Rusty Bikes visited Viareggio to enjoy the sun, the beach, the parties, the food and ofcourse play some ultimate. 
n Viareggio were Marieke, Bronwyn, Buijs (Bauws!), Katie, Tris, Elgin, Adriaan, Alex, Yves, Rui and myself. The tournament started on friday with 4 games, 5 games on saturday, to finish on sunday with 2 games. In between there was a welcoming party on thursday, U2/tranny party on friday and the big superhero party on saturday. There was an open and a mixed division with both 20 teams. The overall level in the mixed division was medium to medium-high (depending on the alcohol).
In our first games on friday we had to get used to the beach again. For some of us it was the first beach tournament in years. After a couple of games we got our beach game together. Our huck game might not has been as good as other teams, but we had a superb short game. Once we got the flow going, we were often unstoppable before scoring.
After day 1 we had only one win, but we could have had at least two more as we were playing reallly competitive. Did I already say the weather was a solid 27 degrees with just a nice little breeze? On day 2 we got the same weather! Somewhat unlucky we ended up third in our second round poule after a threeway split. After pre quarters it was clear, the highest position we could reach was 13th. But then we had to win the first game sunday morning after the big superhero party. In the end it was clear that this was a bridge too far. With some hours of sleep we got 
just enough players to the line to start the game more or less on time. We played a team we had beaten before on universe point, but it was clear today they would beat us. Last game of the day was for 15th place. This game we ended up winning fairly easily.
In the meantime the good weather had been replaced by stronger winds, dark skies and a little rain. As soon as the mixed finals started, this transformed into a massive thunderstorm with big winds, horizontal rain, massive thunders and everbody seeking shelter under the little roof of the beach bar. Unfortunately for the Red Lights their final in the open division was cancelled, because it wasnt getting anything better soon. A positive end in this negative weather was that we ended up winning spirit once again; the third spirit price in four tourneys we played this year! Yeah Bikes!
This was a real fun tournament to play and its really nice to get some sun in September after such a bad summer in Holland. Ofcourse the highlights were not only on the pitch, for example: Elgin stripping on the Tranny stage on his birthday ("Best birthday ever!") or Yves performing a so called 'landshark' with the help of six Danish ladies ("They were too short so nobody saw the actual landshark."). The Bikes are definitely in for it next year!!